Why not 'LIKE' the 
VABS Facebook Page
 to make sure you are kept up to date with all the latest news, reminders and comment on voluntary and community activity in the Strath.
July 2021
Welcome to the fifth BGPP Bulletin
The bulletin highlights the new developments and updates in the Badenoch Great Place Project
New Heritage App for Cairngorms National Park
An exciting new cultural heritage App has launched this week, for visitors to the Badenoch region to discover all that this spectacular area of the Cairngorms National Park in Scotland has to offer.
June 2021
Volunteer in June
We're celebrating volunteering for the month of June to coincide with Volunteer week
If you are interested in finding out more information about volunteering with any of the organisations on the flyer please go to Volunteer Scotland Website. They have many one off events plus some regular activities you may be interested in. We will also post information on our Facebook page – Volunteering in Badenoch & Strathspey. If you'd like to have a chat, please call Mairi @ VABS or even contact the organisation directly.
May 2021
Inverallan 2020 Project: Project Funding Officer
Part-time post, 17.5 hours per week, duration approx. 40 weeks starting June 2021
Inverallan Church, the Church of Scotland parish church in Grantown on Spey, has exciting and ambitious plans to transform its beautiful church building. The aim is to provide a space suitable not only for 21st century worship, but more importantly to make it a place that meets many identified needs of the local community.
To achieve this, they are looking to secure the services of an experienced and self-motivated person who will help their project team to investigate and make applications to suitable sources of major funding.
The attached brief gives full details of the project, the post, and how to apply.
January 2021
Badenoch Great Place Project – January 2021: The Story So Far
See this latest review of all project activity to date and what's still to come in 2021
November 2020
BGPP Bulletin – New Developments & Great Place Project Update
See this latest bulletin for an update on all of the project activity in recent months.
October 2020
Badenoch Great Place Project
See this latest bulletin for an update on all of the project activity in recent months.
August 2020
Badenoch Great Place Project
See this latest bulletin for an update on all of the project activity in recent months.
July 2020
Badenoch Great Place Project
See this latest bulletin for an update on all of the project activity in recent months.
June 2020
Volunteers' Week – 1st to 7th June 2020
Volunteers' Week is marked nationally every year from the 1st to 7th June and gives us in Badenoch and Strathspey an opportunity to celebrate all of the extraordinary work carried out by the strath's volunteers on behalf of their communities throughout the year.
Voluntary Action in Badenoch and Strathspey (VABS) normally celebrates Volunteers' Week, by bringing volunteers and their organisations together from the 400+ (!!!) voluntary and community organisations currently operating in Badenoch and Strathspey for a celebratory event, but sadly are not able to do that in 2020. However, it's still vitally important to acknowledge the fantastic work volunteers do and in particular during this time of lockdown.
It's astonishing to try and count up how many individuals are involved in volunteering in their communities whether it's by sitting on the community council, helping run the community company, village hall or parent council, organising endless activities and events for residents and visitors to enjoy, bringing folk together to play sports or enjoy hobbies, or helping out at the Community Transport Company, Foodbank or one of our community cafes. The list is endless!
People willingly and regularly give up their time – often lots of it – to help their community be a better place to live, work and visit. In March though, when lockdown was announced, volunteering took on a whole new face in Badenoch & Strathspey, with over 850 people coming forward to support the community helplines, food share tables, shopping and prescription runs that became vital to keep everyone safe and well.
As lockdown continues, these same people are still offering their time and skills, making sure that anyone in need continues to be well supported. The selfless contribution of all these volunteers is protecting our communities during this time and for this, everyone is very grateful.
VABS has compiled a short video as an expression of thanks to everyone involved in caring for our communities.
April 2020
VABS secures major Covid-19 funding for all communities in Badenoch and Strathspey
VABS is delighted to announce that we have been successful in our grant application to Scottish Government, via the team at Highlands and Islands Enterprise, for funds to support all of the communities in Badenoch and Strathspey during the Covid-19 crisis. The application was to the Supporting Communities Fund, with VABS applying as a Community Anchor Organisation for the whole of the strath.
The financial support totals £123,000 to cover the next 6 months and can be used for any relatable activity, carried out by any B&S group (constituted or unconstituted), that is in response to the C-19 pandemic in our area.
We will be issuing guidance and a simple application form very shortly, so that folk can start to apply and it is the intention to turn the money around very quickly, so that this financial support goes to where it is needed in the fastest time.
We need to be vigilant that there is no duplication or double-funding of any actions, so if your group has already applied and been successful elsewhere in getting funding for a specific activity, you will obviously not be able to get more funding from VABS for that particular purpose. Groups need to be very mindful of avoiding double-funding, especially when there are so many funds available at the moment.
The VABS team will be in touch with Badenoch & Strathspey groups and organisations shortly with more details.
Watch this space for further updates!
Badenoch Great Place Project
We would like to introduce Caroline Sterritt, who began her work as Project Officer for the Badenoch Great Place Project on Monday 30th March – a challenging time to start any new job!
Caroline has already begun getting up to speed with the huge amount of work already completed or underway with the project and started to develop the next lines of activity, so the project team can hit the ground running, once restrictions on movement and gathering are lifted.
The next key pieces of work that the project will be undertaking are:
Launch of the Badenoch Heritage website planned for early May
Planning for the next round of working with the schools activity in the autumn
Engaging with all the local communities, residents and businesses on the tourist route through Badenoch, its interpretation and branding
Working up the Mobile App and Digital Visualisation for promoting the area
Continuing to work on ideas for the Badenoch Festival
Preparation of Gaelic Place Names and Guided Walks leaflets
Most of these activities we are obviously only able to plan and discuss using video meeting technology at the moment, but it means Caroline and the rest of the project team (Graham Fraser, Liz Henderson and Karen Derrick) will be ready to really move the project forward when the time comes!
Highland Third Sector Interface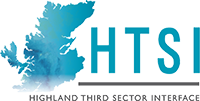 VABS is part of the Highland Third Sector Interface (HTSI) funded by the Scottish Government to support Badenoch and Strathspey communities in the following four areas:
Volunteering
Organisational support
Social Economy/Enterprise
Community Engagement & Planning