What residents say about their community
Aviemore is recognised internationally as a ski resort which now offers an increasingly large number and variety of sports and activities. Open for 52 weeks of the year, it is a village for all seasons with a year round programme of festivals and events. It has a strong record of conservation in terms of the care for the countryside and indeed has made a business out of conservation.  Aviemore plays a vital part in the Scottish tourist industry and is the economic driver for the National Park.
The residents feel strongly that for a community of around 3000 people, Aviemore and Vicinity punches well above its weight, attracting more than a million visitors per year. Aviemore itself has come a long way since its beginnings as a railway junction in the 19th century and with the redevelopment of the resort over the last decade especially, it has seen residential and visitor numbers rising considerably with growth in both tourism and conservation activity.
The area is easily accessible by air, rail and road and due to the wide choice of accommodation provision, it plays host to an increasing number of international and high status conferences and events throughout the year.
Residents feel that there is a lack of appreciation by public agencies of the economic growth rate of the area and that an urgent review of the community infrastructure in the way of services, amenities and public facilities is now required, as it is struggling to keep pace.
Aviemore and Vicinity needs to continue to develop its tourist industry whilst recognising and understanding the requirements, wants and expectations of its visitors and residents. The Aviemore brand needs to be safeguarded and this requires recognition by public agencies. The community too must remain ambitious concerning the development of future projects. These new developments have been identified as a state of the art indoor sports centre, the new community primary school, the riverside park, a new Tesco and the An Camas Mòr housing development together with a fully integrated transport system and responsible open access on Cairngorm mountain.
A resolute effort is required to improve the look of the village, particularly by putting 'nature' back into its existing and new housing developments, through the use of green screening and planting as well as the more intelligent positioning of street lighting.
The above developments and environmental enhancements will significantly improve the quality of life for residents and enhance the experience for visitors to the area. These factors are inextricably bound together and future employment, with increased value placed on service industry jobs will particularly encourage Aviemore's young people to make a life in the area as lifestyle and opportunities continue to improve. 
Links
To find out more about Aviemore, general information and activities, visit the Aviemore Community Website and Facebook Page.  To see what projects the Aviemore community are taking forward, have a look at their latest Community Action Plan.
Aviemore community groups
Aviemore and Vicinity Community Council
Aviemore Community Enterprise
Aviemore Community Café
Aviemore Primary School Parent Council
Badenoch and Strathspey Community Transport Company
Highland Third Sector Interface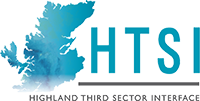 VABS is part of the Highland Third Sector Interface (HTSI) funded by the Scottish Government to support Badenoch and Strathspey communities in the following four areas:
Volunteering
Organisational support
Social Economy/Enterprise
Community Engagement & Planning