What residents say about their community
Dulnain Bridge, lying to the west of Grantown on Spey is a village comprised of two communities, with Dulnain Bridge itself to the north of the bridge and having a post office, shop, garage and well used village hall. The crofting community of Skye of Curr stretches for a mile to the south terminating at the famous Speyside Heather Centre. 
Curr Wood on the south and east of the village has the country's largest population of Twinflower known by the botanical name of linnea borealis which shares the forest floor with a tiny orchid called Creeping Ladies Tresses.
This small rural village with a population of approximately 500 has a strong sense of community identity, where people really know and support each other in their day to day lives. Filled with local characters and familiar faces, Dulnain Bridge is proudly known by residents as having a real 'do it ourselves' attitude to community living.
The village currently contains buildings of diverse design, which blend well into the surrounding landscape. Therefore residents are keen to ensure that any future development evolves sympathetically, so allowing for the growth necessary to sustain the village whilst guarding against intrusive or unnatural architecture. Residents appreciate the visitor attractions the community boasts, particularly the unique glaciated rocks known as 'Roches Moutonnes' and the wide selection of restored crofting machinery which is displayed at the northern end of the village. Access to the nearby forest, open spaces and the quiet pace of life partly due to the limited traffic volume and pollution are greatly valued and considered important to retain. Also notably within Dulnain Bridge there remains one of a decreasing number of areas where crofting continues as a traditional way of life for a number of people within the community.
Whilst Dulnain Bridge would like to keep hold of its safe 'country feel' by not changing greatly in the coming years, residents recognise they would benefit from having better links with other communities such as creating a permanent cycle path and supporting the rail link to Grantown. It is recognised that young people, especially of school age need to be given the opportunity to travel safely to and from other nearby communities to visit friends, cycle to school and access local amenities. The creation of a new cycle path to Grantown would provide a safe route for Dulnain's youngsters, so enhancing their quality of life, encouraging independence and giving them a sense of belonging. Residents would also value this link for their overall health and personal wellbeing.
Links
To find out more about Dulnain Bridge visit the Dulnain Bridge Community website or the Facebook Page.  To see what projects are going on see the Community Action Plan.
Dulnain Bridge community groups
Dulnain Bridge Community Council
Dulnain Bridge Village Hall
Highland Third Sector Interface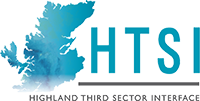 VABS is part of the Highland Third Sector Interface (HTSI) funded by the Scottish Government to support Badenoch and Strathspey communities in the following four areas:
Volunteering
Organisational support
Social Economy/Enterprise
Community Engagement & Planning