What residents say about their community
The community of Kincraig is located approximately halfway between Aviemore and Kingussie and as well as the village itself, the outlying hamlets of Drumguish, Insh, Lynchat, Lynwilg, Alvie, Feshiebridge and Dalnavert are also sited within the community council area.
In spite of this geographical spread, a strong connection exists between all of these settlements and Kincraig village, Although residents of the outlying areas often look to their larger neighbours, Aviemore and Kingussie for amenities and services, they remain connected with the village due to the strong bonds with the land and the presence of the local primary school, shop, church, village hall and pub which play a pivotal role in the social cohesion of this scattered community.
Working the land is still a major way of life and source of employment in this part of the National Park and therefore needs to be supported, although tourism is the major driver in the local economy. Kincraig's location lends itself very well to drawing visitors to the area. For a small sized community, it offers high-end tourist attractions, specifically the Highland Wildlife Park and Loch Insh Watersports which bring in visitors all year round. Residents acknowledge that the magnificent views in addition to the numerous and varied recreational and sporting opportunities, are an important reason why people come to visit and stay here and therefore these too must be protected.
For the future, 'connections' are regarded as the essential key to the continued prosperity of this community: through social cohesion (retained amenities, appropriate scale and affordability of housing in keeping with local needs and character), excellent communications (broadband) and an effective, well maintained transport system (bus, rail and road).
The livelihood of many local people is dependent on visitors who support the local economy and the employment opportunities which are created through the service industry. However this area also attracts a lot of 2nd home owners whose properties are often left lying empty for a good proportion of the year and which it is felt make only a limited contribution to village life or the area but has the undesirable consequence of helping to raise house prices beyond the reach of local people. Although tourism is vital, diversification of the local economy is now considered essential, with farming, forestry, renewables such as a wind farm and local home working suggested as examples of furthering possible enterprise.
Whilst accepting that this will bring change, residents would like such developments to be organic in their growth, with planned housing still allowing Kincraig village in particular to retain its rural feel with design in keeping with the area's aesthetic appearance and small housing developments which do not impact on the views, or dominate the traditional heart of the village which they are determined to preserve for the future.
Links
To find out more about Kincraig, general information and activities, visit the Kincraig Community Website.   To see what projects the Kincraig community are taking forward, have a look at their latest Community Action Plan
Kincraig community groups
Kincraig Community Council  Facebook page
Kincraig Community Hall
Highland Third Sector Interface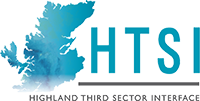 VABS is part of the Highland Third Sector Interface (HTSI) funded by the Scottish Government to support Badenoch and Strathspey communities in the following four areas:
Volunteering
Organisational support
Social Economy/Enterprise
Community Engagement & Planning