What residents say about their community
Grantown on Spey was designed as a planned town with a distinctive layout, resulting in a wide, central square with leafy avenues leading off it and a traditional Victorian feel to the architecture of the high street and the main roads and houses surrounding it. The town lies on the river Spey and is approached in all directions by scenic woodland roads, which residents feel add to the impression of entering a special place. It has a strong association for 'GRANTS' from all over the world who often visit to investigate their family links with the area.
The flat, easily accessed high street is unusual in that it contains many small individual shops selling a wide range of goods, which visitors and locals appreciate. The town is considered by residents to be a good place in which to bring up a family, as it has a good primary and secondary school, is clean and well-kept with a strong sense of civic pride. Its busy hotels, sports centre with swimming pool, cottage hospital, care home, dental suite and health centre, museum with its bell tower, Strathspey Thistle football club and well run caravan park are just some of the many facilities which the community enjoys. 
The community-owned Anagach Woods which come right into the residential area of the town provide a wonderful resource for recreation and conservation as does the Spey with its opportunities for fishing and wildlife watching.
Grantown has three industrial estates which are full of small and medium businesses providing a much needed source of employment for the local population. There is a good mix of business and community in the town, creating a positive ambience and resulting in a large number of active local organisations which support a wide range of interests and age groups, including notably many younger members.
Being a town with a relatively large population, Grantown residents are aware that a thriving high street is the key to its future prosperity and its ability to take advantage of the number of visitors to nearby Aviemore, by drawing them on to visit Grantown and its tourist facilities as well. The successful extension of the Strathspey Steam Railway from Broomhill to Grantown on Spey is seen as playing an essential part as it too will fulfil a vital role in attracting visitors and providing locals with a further transport link so hopefully enabling more people to live in Grantown and access job opportunities in other parts of the area such as Aviemore. The factor causing some concern is the number of empty shops and the potential for the resulting decline in the footfall on the high street. The need for a robust marketing plan is considered to be crucial to reinforce the message regarding Grantown's special character.
The other serious threat to the town's future wellbeing is if Grantown's young people move away through reduced work and housing prospects. Whereas the town is unwilling to accept a large scale housing development, the residents do feel that a compromise needs to be reached, so that youngsters are not leaving because they can't get accommodation. This would result in a detrimental imbalance in the population, turning Grantown into a 'retirement town', with a loss of vitality of young people in schools and community organisations. This situation is one being faced by many communities in the Park with no straightforward, obvious answer. For Grantown therefore it is important that all interested parties must come together, to work towards finding a solution to the development of the town, with small scale and a mix of accommodation being the ideal.
Grantown residents are hopeful that the next 10 to 15 years will see a town that continues to be busy, safe and confident in its ability to provide a special place for locals and visitors. It will have retained its attractive appearance, with all of its current assets intact, well maintained and supporting the community. It is hoped that during this period, there will be a new community centre built, more top quality hotels and restaurants established, full schools with a balanced population, lots of successful businesses and that Grantown will still be recognised as a wildlife capital.
Links
To find out more about Grantown on Spey, general information and activities, visit the Grantown on Spey Community website and Facebook page.  To see what projects the Grantown community are taking forward, have a look at their latest Community Action Plan.
Grantown on Spey community groups
Grantown and Vicinity Community Council
Grantown Initiative
Grantown Museum
Grantown YMCA
Grantown Primary School Parent Council
Grantown Grammar School Parent Council
Grantown Twinning Association
Highland Third Sector Interface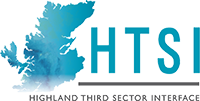 VABS is part of the Highland Third Sector Interface (HTSI) funded by the Scottish Government to support Badenoch and Strathspey communities in the following four areas:
Volunteering
Organisational support
Social Economy/Enterprise
Community Engagement & Planning