What residents say about their community
Carrbridge is situated at the north-west entrance to the Cairngorms National Park, and has several defining landmarks and events that make it a special place for residents and visitors alike. As the first of the Scottish ski villages, the history of this small but lively community dates back over many hundreds of years with its past reflected in the arches of its ancient packhorse bridge – the oldest stone bridge in the Highlands. It is home to a number of activities enjoyed by both tourists and locals, such as pony trekking, golf, bowling, cycling and walking but most notably, Carrbridge is also the location for two international annual competitions: The Golden Spurtle™ World Porridge Making Championships and Carve Carrbridge, the Scottish Open Chainsaw Carving Competition. Both of these prestigious events are driven by extremely active and dedicated members of Carrbridge community organisations, and the numbers who flock to watch these events annually from all over the area not to mention the world, serve to show what energetic and committed residents can be found in this small traditional highland village.
Another attraction which has helped to put Carrbridge on the map is the highly acclaimed Landmark Forest Adventure Theme Park with its wild water slides, rollercoaster, steam powered saw mill and tree top trail set in an ancient pine forest. 
The fact that Carrbridge is also known for both its traditional and contemporary Celtic music and song, serves to underline that this is a very vibrant and outward looking community, who take pride in their achievements and also value their local facilities such as the Carrbridge Hotel, the local shop and garage and the primary school which are all well supported by locals.
Residents are keen to hold on to the community's strong identity which they feel could be at risk if the village grew much larger through the granting of inappropriate levels of housing development. Good neighbours and healthy businesses are recognised as essential for Carrbridge to continue to prosper but it must be balanced very carefully against the feel of becoming 'suburban' where the community doesn't know itself any more, so natural and organic growth is seen as the way forward here. Concern has been raised that Carrbridge could easily become a 'natural old folks home' in the future, as the population will predominantly be made up of older people, so steps must be taken to support the younger generation to remain in the village.
Young people are at the heart of their concerns and play a big role in the future of the community. Residents recognise there are limited opportunities for its younger generation, primarily due to the limited employment options and affordable housing in the area.
They have highlighted a wish to support growth in the number of local enterprises through provision of small business units, improve the current communication systems (more efficient broad band and improved and integrated transport network) and address the serious housing/2nd home situation that currently makes it virtually impossible for young people to buy or rent their own homes. If Carrbridge is to encourage its young people to remain in or return to the village, more housing will need to be built. However residents are looking for sympathetic design on a small scale, with specifically no residential buildings taken above tree height – local housing for local people. They have also identified a need for increased and improved access to leisure and sports amenities within the village which will also enhance the quality of life for residents.
By addressing the displacement of young people, it is hoped Carrbridge will not change too much but instead will see a younger generation coming through to take over the community's successes.
Links
To find out more about Carrbridge visit the Carrbridge Community website or the Facebook Page.  To see what projects the Carrbridge community are taking forward, have a look at their latest Community Action Plan.
Carrbridge community groups
Carrbridge Community Council
Carrbridge Village Hall
Carrbridge Tourist & Business Association
Carrbridge Primary School Parent Council
Highland Third Sector Interface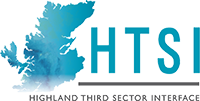 VABS is part of the Highland Third Sector Interface (HTSI) funded by the Scottish Government to support Badenoch and Strathspey communities in the following four areas:
Volunteering
Organisational support
Social Economy/Enterprise
Community Engagement & Planning