What residents say about their community
The oldest settlement in Badenoch, Kingussie is a traditional highland town situated by the River Spey, 3 miles north of Newtonmore and 15 miles south of Aviemore.  Located across the river, is the iconic Ruthven Barracks, a significant landmark as you approach the town. Served well by public transport, Kingussie is a popular destination for visitors who find it a friendly, attractive, well-kept town with a welcoming atmosphere and attractive High Street.
Kingussie has a number of important assets that make it special: a very successful shinty team; St Vincent's community hospital; Am Fasgadh site; the Iona Art Gallery (one of only two in the Cairngorms National Park); the Court House; several independently owned shops on the high street as well as a mainline railway station.
The unique backbone to Kingussie is its shinty team, which is vitally important to the social fabric of the town, its achievement being well known throughout the strath and beyond. Proudly valued by the community also is  St Vincent's – an important facility providing care for the elderly throughout the strath, which needs to be maintained and enhanced as the average age of the area's population increases.
Residents appreciate the way the town has not changed significantly over time and would like to protect its physical appearance and atmosphere. Kingussie is an attractive destination for visitors that provides high quality B&B and guest houses, although there are a limited number of visitor attractions that currently remain to keep tourists in the town.
However aspirations are high and the proposed community buyout of the Am Fasgadh site for tourist development is an ambitious and exciting project that will meet this need, create space for local artisans, generate local employment, and provide an archive for natural and cultural heritage of the area. This significant project will potentially transform the community, provide visitors with a 'high end' experience and create an artistic hub at the southern end of the strath. In order to increase tourism numbers, this is a real opportunity to be harnessed and one that residents are ready to embrace.
Whilst this initiative is very exciting, residents are however increasingly disturbed and frustrated about what they perceive as  the allowing of 'over development' particularly with regard to the impact a proposed new housing development will have on the community.  Of particular concern are the issues around inadequate infrastructure provision, limited employment opportunities and a population increase which will have an irreversible effect on the physical appearance and sense of this traditional highland town that provides the core appeal to locals and visitors alike.
Links
To find out more about Kingussie, general information and activities, visit the Kingussie Community website and Facebook page.  To see what projects the Kingussie community are taking forward, have a look at their latest Community Action Plan
Kingussie community groups
Kingussie Community Council 
Cycle Friendly Kingussie
Kingussie High School
Caberfeidh Horizons
Kingussie Community Development Company
Kingussie Camanachd Club
Highland Third Sector Interface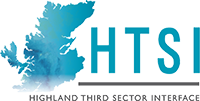 VABS is part of the Highland Third Sector Interface (HTSI) funded by the Scottish Government to support Badenoch and Strathspey communities in the following four areas:
Volunteering
Organisational support
Social Economy/Enterprise
Community Engagement & Planning