What residents say about their community
Laggan lies in the most western part of the Cairngorms National Park, surrounded by the Monadhliath and Grampian mountain ranges. It is notably the largest parish with the smallest population in Scotland yet welcomes a staggering 30,000 visitors a year.  The community enjoys the legacy of the hit BBC drama series 'Monarch of the Glen' much of which was filmed in and around the village and this together with Wolftrax – the all year round, 18km mountain bike trail, the Laggan Community Forest, the Corrieyairack Pass and a rich cultural heritage going back to Pictish times, makes you realise why this is such a popular place to visit.
Laggan has a long history and a recognised reputation for community activism. Over the years, dynamic and forward looking residents have formed ground breaking community organisations which have resulted in the community ownership of a number of local assets: 5 community houses for local residents; the village hall; the community TV mast; and one of the first Community Forests in Scotland, acquired almost 30 years ago. The village also has its own village shop, primary school, active church, resource centre and doctor's surgery and nothing seems too big for this community to take on.
Laggan has bred many generations of farming/crofting families and now is home to others who have moved into the area wishing to make it their way of life too, resulting in a significant increase in the population over the last decade. This mix is regarded as an important asset to the community, as it combines the rich knowledge of a crofting and farming tradition together with a wealth of new ideas and energy, creating a community which is greatly strengthened by these qualities.
Consequently any significant reversal of this trend with people moving away, would impact severely on the ability of the community organisations to pursue their desired aims with the energy and success they have had up to now. It could lead to a one-teacher or even closure of the primary school, doctors surgery, village shop and create a community that is no longer able to attract inward investment. Laggan residents are aware that they are on the edge of the area for the National Park as well as other national agencies.
The landscape and way of life in Laggan has not changed much over time, and although the community doesn't want to see any dramatic change in the landscape, they are acutely aware they have some responsibility for the future social and economic development of the area.  Local businesses feel there are a number of constraints currently preventing them from being able to expand, and these issues must be urgently addressed. Trunk road restrictions, planning legislation and affordable accommodation for seasonal employees amongst others are some examples of where future challenges lie.
A strong broadband connection, all year round tourist trade, decent public transport system, the maximisation of benefits from community assets eg renewables and others and a variety of profitable businesses including faming and community businesses, are seen as the important priorities to ensure the future livelihoods of Laggan residents. This it is hoped, will encourage the community's young people to stay or return to the area, where they have a reasonable prospect of getting a job and somewhere affordable to live, maybe in housing that is sympathetic and innovative to match Laggan's outlook.
Links 
To find out more about Laggan, general information and activities, visit the Laggan Community website or the Facebook page.  To see what projects the Laggan community are taking forward, have a look at their latest Community Action Plan.
Laggan community groups
Highland Third Sector Interface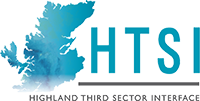 VABS is part of the Highland Third Sector Interface (HTSI) funded by the Scottish Government to support Badenoch and Strathspey communities in the following four areas:
Volunteering
Organisational support
Social Economy/Enterprise
Community Engagement & Planning