Saltire Awards are Scotland-wide awards designed to formally recognise the commitment and contribution of youth volunteering. Supported by the Scottish Government, the Saltire Awards enable young volunteers to record the skills, experience and learning gained through successful volunteering placements in school or provided by local and national voluntary agencies.
The Awards are split in to four sections – The Challenge, The Approach, The Ascent and The Summit and achievement is recognised in the form of Saltire Award certificates and Young Scot reward points.
Saltire Awards are designed to encourage and enable youth volunteering and dovetail neatly into the four capacities of Curriculum for Excellence as participants will develop their abilities through volunteering to become successful learners, confident individuals, responsible citizens and effective contributors. The Saltire Journal is the resource provided to facilitate recording of skills and learning achieved. In addition, participants are required to complete a self-evaluation (Footprints), which directly links their responses to Curriculum for Excellence.

Hamish Henderson
Aged 15
Cub (Scout) Leader
" I would recommend volunteering because it has helped me to gain the key skills for
the future and develop my leadership skills. Volunteering is really fun and it feels
good to know that you are making a difference within the community "

Fiona MacKenzie
Aged 17
Brownie Helper
" Volunteering has encouraged me to be more confident and step outside my comfort
zone it has also improved my skills of timekeeping, reliability, communication and
increased my leadership skills. Brownies have helped me to gain these skills as each
session we complete different tasks whether it's creative or physical or intellectual "

Abigail Sinclair
Aged 17
Classroom assistant in Primary school
" It has made me much more confident and has allowed me to gain experience in the area I would like to work within "

" My interests are music, art, horse riding and writing.  I first began volunteering in January 2014 at Caberfeidh bookshop.  Paul, my teacher told me about the Saltire awards and encouraged me to sign up.  I thought this was an excellent idea, and joined.  The Saltire award is to help encourage young people to volunteer and gain important life skills – opening up new opportunities and developing experience. 
The reason I wanted to be a volunteer was to challenge myself, gain positive achievements and benefit myself from social contact.  When this was set up, I got on the train to go to the bookshop to become a volunteer.  I really enjoyed my first day, because I got to see rooms where I wouldn't be allowed to go as a customer and having access to the computers. My first task was to scan and list books online.  After I had returned back from my experience, I then logged onto the saltire website and recorded my experience. Recently I have just completed my ten hours award and I was presented with my certificate from Kathryn.  This felt great.  I continue to work at the bookshop.  I would recommend this award to others, because you get to meet lots of new people and benefit from learning lots of good life skills "
Highland Third Sector Interface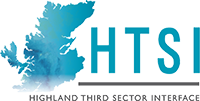 VABS is part of the Highland Third Sector Interface (HTSI) funded by the Scottish Government to support Badenoch and Strathspey communities in the following four areas:
Volunteering
Organisational support
Social Economy/Enterprise
Community Engagement & Planning