What residents say about their community
Dalwhinnie is a small village situated at the southern end of Badenoch, at an altitude of 351m, near the foot of Ben Alder.  It lies in a glen with the Monadhliath Mountains on one side and the Forest of Atholl, the Cairngorms and the Grampians on the other. Its wide, open wilderness provides a healthy environment that residents value highly and also encourages many visitors to return to the area year after year. Dalwhinnie is recognised as one of the coldest villages in the UK, having an average annual temperature of 6.5°C, which makes it ideally suited to winter walking and mountaineering. This special natural environment also allows for a wide variety of other recreational activities such as mountain biking, fishing and white water kayaking which serve to attract the many tourists that pass through the village in the summer months.
Distinguished as having the highest working distillery in Scotland and the only one in the Cairngorms National Park, Dalwhinnie is steeped in a rich history created over many generations. The population of this settlement is small, yet actively committed to community life, maintaining a strong sense of independence partly owing to their 'bracing' geographic location.
Dalwhinnie enjoys close links with the Ben Alder Estate which provides a mainstay of employment for the area and the estate's sustainable approach to managing the surrounding landscape is highly regarded by the local population. The primary school plays a strong and vitally cohesive role in community life, although its declining school roll is a source of much concern. Equally residents are aware that their local amenities are limited and vulnerable and in response to these particular issues, Dalwhinnie would like to see new housing initiatives introduced, which will allow young families to move into and remain in the area long term. Better transport links to other communities both north and south of the village, are seen as additionally necessary to improve Dalwhinnie's chances of remaining a viable 'lived in' community, providing work and leisure opportunities to help it thrive as a location of choice.
New initiatives are continually being taken forward by committed community members, such as the provision of village interpretative plans, the publication of books such as 'Dalwhinnie Past and Present' and the creation of nature walks and trails. These are just some of the ways in which the residents themselves feel they can help to support the fragile tourist trade and consequently the ongoing future wellbeing of the village.
Links
To find out more about Dalwhinnie, general information and activities, visit the Dalwhinnie website  and to see what projects the Dalwhinnie community are taking forward, have a look at their latest Community Action Plan.
Dalwhinnie community groups
Highland Third Sector Interface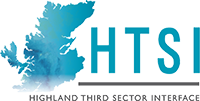 VABS is part of the Highland Third Sector Interface (HTSI) funded by the Scottish Government to support Badenoch and Strathspey communities in the following four areas:
Volunteering
Organisational support
Social Economy/Enterprise
Community Engagement & Planning