Independent Examination Preparation of Accounts
Periodically (normally annually), a full set of accounts to date are prepared in accordance with the governing document of the organisation. The governing document will normally be the Constitution or Articles of Association. These accounts should give a clear picture of the finances of the organisation, showing what monies have been received/raised and how they were spent or what they are being held for. They should also contain comparable figures for the previous year which help to reflect any changes within the organisation.
If you are a charity, you will need to prepare these accounts to the highest required level depending on what type of organisation you are, what level of income you have and what is stated in your governing document. Accounts also need to contain a TAR (Trustees Annual Report). The type of Independent Examination your charity requires will depend on the above criteria.
Once the accounts are prepared, they need to be examined by an Independent Examiner.
Independent – A person who is not associated with the organisation or any of its board members.
Suitably Qualified –This depends on the level of accounts required.
More detailed guidance on account preparation and Independent Examination can be found on the OSCR website
VABS offers (for a small charge) a service to help in the preparation of the accounts and has staff who are suitably qualified to independently examine most charities. Accounts staff are all members of ACIE (Association of Charity Independent Examiners).
For more information please contact us or email Ann Traill here at the VABS office or call 01479 873445
Highland Third Sector Interface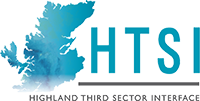 VABS is part of the Highland Third Sector Interface (HTSI) funded by the Scottish Government to support Badenoch and Strathspey communities in the following four areas:
Volunteering
Organisational support
Social Economy/Enterprise
Community Engagement & Planning