VABS membership is FREE for all voluntary / community groups & organisations in Badenoch and Strathspey.
Why should I become a VABS member?
Being a VABS member means you will be joining lots of others who are part of Badenoch & Strathspey's support network of groups working on behalf of their community.
What will I get?
As a member you will receive:
VABS newsletters (E bulletins)
Regular updates on funders and current funding programmes
Training / Networking opportunities to help develop skills and knowledge for you/r group
Events reminders for local/national workshops relating to the voluntary/community sector
As a VABS member you can get free advice on:
Governance – setting up the best structure for your needs
Funding sources
Running your organisation
Finance Management
Project Management
Volunteering Opportunities & Awards
Developing a social enterprise
Running community consultations
As a VABS member you can also access additional services for a subsidised charge:
Accounts preparation
Independent Examinations
Skills Audit and Strategic Development for Voluntary Boards
Employment and legal advice for community organisations
Recruitment Services
Payroll Services
Interested?
If you would like to become a VABS member, please download the membership form (below), complete the form and then return to VABS via email or by post.
Highland Third Sector Interface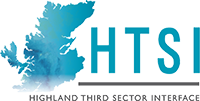 VABS is part of the Highland Third Sector Interface (HTSI) funded by the Scottish Government to support Badenoch and Strathspey communities in the following four areas:
Volunteering
Organisational support
Social Economy/Enterprise
Community Engagement & Planning