Book Keeping Services / Training
When we are responsible for other people's money we have a duty to be open and clear at all times. When we are a charity this responsibility also comes with a set of rules to follow. All Scottish charities are regulated by OSCR (Office of the Scottish Charity Regulator) which states that under the Charities and Trustee Investment (Scotland) Act 2005, charities must keep accounting records of sufficient detail that are able to:
Show day by day, the money received and spent by the charity
Record the assets and liabilities of the charity
Disclose the financial position of the charity at any time
Trustees/Directors also have to report on the finances of the organisation to the board or to funders, so good financial recording is essential to all organisations.
VABS offers two levels of services to help your group stay compliant. We can either set up and maintain the financial systems for your group or alternatively we can set up a record keeping system and give training to groups or individuals on how to use it.
For more information please contact us or email Ann Traill here at the VABS office or call 01479 873445
Highland Third Sector Interface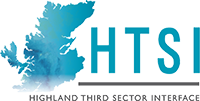 VABS is part of the Highland Third Sector Interface (HTSI) funded by the Scottish Government to support Badenoch and Strathspey communities in the following four areas:
Volunteering
Organisational support
Social Economy/Enterprise
Community Engagement & Planning